Bankruptcy can happen to anyone and is not necessarily due to financial irresponsibility. It is often due to job loss, divorce, illness, to name a few. Many people worry that bankruptcy will be a permanent or long-term setback, which is not the case. Your credit score can change in just two to three years after your discharge (most people are discharged after 9 months; however, the bankruptcy will show on your credit history report for 6 years after that date).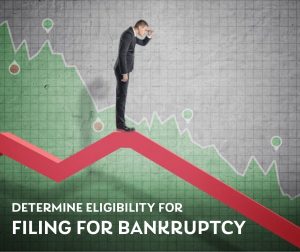 Bankruptcy provides a financial fresh start by eliminating debt that you may have struggled for years to repay. A Certified Public Accountant can help you with areas that your attorney may not be sure about, such as: determining eligibility and discharge, knowing exactly when you should file, procure an offer in compromise, and represent you to the IRS.
What documents do you need when filing for bankruptcy?
Chapter 7 and Chapter 13 bankruptcy are the two most common programs you can use to reduce or eliminate your debt. The documents are the same for both, with slight variations. Make sure to check the guidelines provided by your state and your bankruptcy trustee. You will also be required to present the following documents:
Tax returns

Income documentation

Proof of real estate fair market value and mortgage statements

Vehicle registration, proof of value and insurance

Retirement and bank account statements

Identification

Other documents (child support, alimony, etc.)
By law, you are also required to complete a credit counseling class and obtain a certificate before you can file for bankruptcy. 
Bankruptcy is a serious decision and we do not want you to have any surprises along the way. Contact Georgen Scarborough Associates today should you have any questions regarding bankruptcy.