Homeowners know all too well how enormous repayments can be, never mind how much it costs to keep a home well-maintained and in good condition. Hence the reason why so many Americans are keen to find out if any part of their home payments are tax deductible. The great news is that there are multiple tax benefits that come with owning a home. We provide details on each of them below.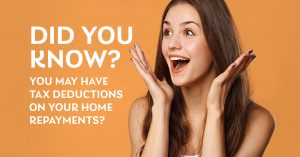 Property taxes
In most cases, property taxes are tax deductible. According to new law, the maximum amount of state and local property, income, and sales taxes that can be deducted at any one time is $10,000.
Mortgage interest deduction
All homeowners know just how much interest they wind up paying over the course of their mortgage. Luckily, this interest is also usually deductible. You will be able to determine how much mortgage interest you paid in box 1 when you receive your Form 1098.
Points paid when buying your home
This one applies to home owners who have only recently purchased their home and who paid points in order to land a better interest rate. Check box 6 in Form 1098 to find out how much you paid for points, which are tax deductible.
Private mortgage insurance premiums
If you opted for a traditional mortgage and you put down a deposit that was less than 20% of the value of the home, you likely paid private mortgage insurance premiums. The amount paid can be found in box 5 of Form 1098 and, once again, is usually tax deductible.
Home office deduction
Are you lucky enough to own your own business and work from home? Then you will be eligible to claim the home office deduction. You can choose to claim up to $1,500 which is the set dollar amount of $5 per square foot of your home used for your business up to 300 square feet. Alternatively, you may also claim based on a portion of your home expenses.
For more information, contact the Certified Public Accountants at Georgen Scarborough Associates.