The official tax deadline for the 2019 tax year has been announced and falls on Wednesday, the 15th of July 2020. Worried about being able to file your taxes on time and incurring hefty penalties as a result of not filing on time? Here are some tips to help you get organized.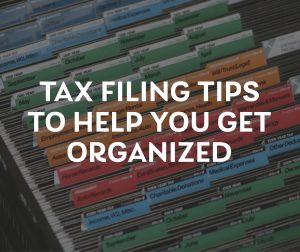 Keep your forms in one place
The leading reason why individuals file their taxes after the deadline is the fact that they have struggled to get all of the necessary information, documents, and forms in order. If all of those important forms and documents are strewn in different directions around the home or office, it can prove nearly impossible to gather them all. As such, strive to keep them all in one place right from the very start. That goes for your paperwork for deductible expenses, your W-2s, 1099s etc.
Set aside some time
Set aside a quiet time to prepare your tax documentation when you know that you will not be disturbed or rushed. It is important that you focus on what you are doing and that you double check all information.
Do your research
Most people are well aware of the basic tax deductions – but how sure are you that you do
not qualify for some of the lesser-known ones, such as the Self-Employed Health Insurance tax deduction (SEHI) or the student loan interest deduction? Do your research on all of the available tax deductions, especially above-the-line deductions, which are the ones that are often forgotten about or overlooked.
Enlist the help of a CPA
A CPA, or Certified Public Accountant, can take the stress and burden of doing taxes off of your shoulders completely. They will have all of the necessary knowledge and expertise in order to ensure that you receive the maximum benefit from your tax return and that you submit all of the necessary documents well within the time limit.
Contact the CPA specialists at Georgen Scarborough Associates, PC today for more details on how we can help you file your taxes.